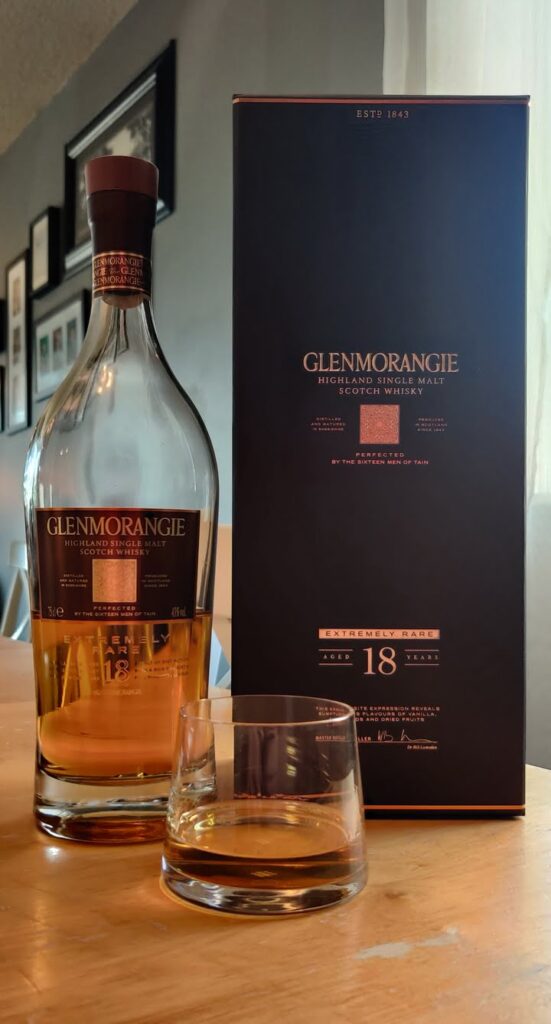 Tasting Date: 2021-05-09
Region: Scotch whisky – Highland
Type: Single malt
Age Statement: 18 Years
Size: 750ml
ABV: 43% ABV
Cask Type: Once it has spent fifteen years maturing in American white oak casks approximately 30% is transferred into Spanish Oloroso casks to spend a further three years maturing.
Distiller: The Glenmorangie Distillery
Location: A9, Tain, Ross-shire, Scotland
Bottler: The Glenmorangie Distillery
Purchase Location: Unknown
Purchase Date: After October 23rd 2019
Cost: Approximately $125.00 including GST & Deposit
Tasting Notes From The Glenmorangie Website:
AROMA: Rich, rounded and sweet with dried fruit and a complex floral fragrance.
TASTE: A balance between honey, malt and flowery notes. Rich figs and dates emerge with a hint of wood smoke in the background.
FINISH: Long and enticing with the sweetness of dried fruit and subtle dryness of Oloroso nuttiness.
Colour: Honey
TransparentSmoke Review: I borrowed this bottle from a friend. He was nice enough to lend me his collection and I have been slowly making my way through doing reviews. I have waited a few weeks for the right time to review this one, as I feel like I just did the review of the Glenmorangie The Original. This specific bottle is dated October 23rd 2019, which means this is from the before times. Before March of 2020, before COVID, before masks, before having to drink alone for safety reasons, before Mother's days that can only have a maximum of 5 people outdoors. If we were still in the before times, I could tell you that what this bottle really deserved was a dinner party with friends and poached pears for dessert.
Glenmorangie has a distinctive nose that I think of as simple and easy. Waiting 18 years for it to be ready for the bottle and still be that simple is a crazy proposition. You would think that with that many years in a barrel it would be far more dark and heavy. But no, light fruits with oak are the primary smells on the nose. The first taste is pears and honey and malt. The second introduces the wood smoke in ever so slight amounts. The finish lacks any bite, it's just clean and easy.
Mother's day 2021 was the best we could do for Glenmorangie Aged 18 Year. The weather held and the day was nice and the whisky easy.
Our Score: 82/100
Bottles on Hand: