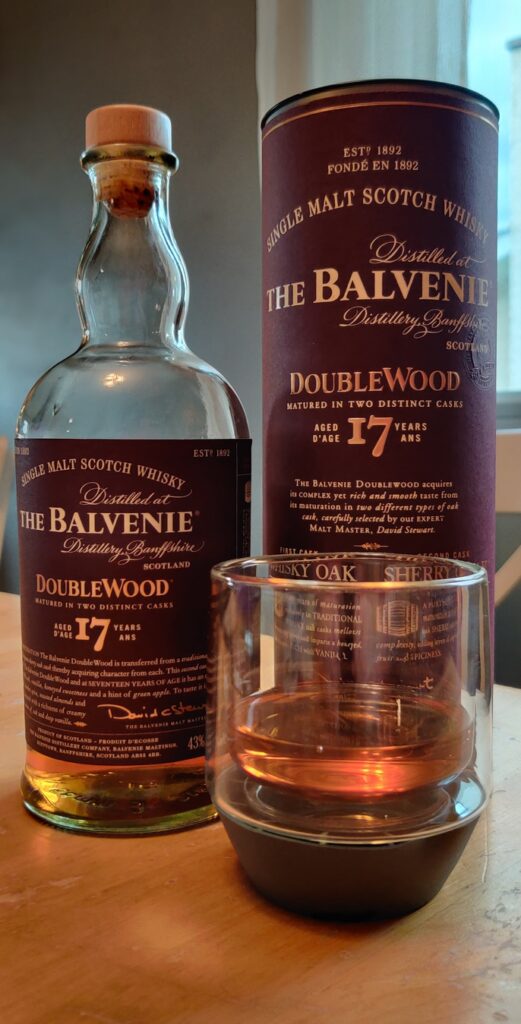 Tasting Date: 2021-05-11
Region: Scotch Whisky – Speyside
Type: Single malt
Age Statement: 17 Years
Size: 750ml
ABV: 43% ABV
Cask Type: Traditional Whisky oak casks and European oak sherry casks
Distiller: The Balvenie Distillery Co.
Location: Balvenie Distillery, Dufftown, Keith, Scotland
Bottler: The Balvenie Distillery Co.
Purchase Location: Edmonton
Purchase Date: 2013
Cost: Unknown (Sells for $241.58 including GST & Deposit now)
Tasting Notes From The Balvenie Website:
[ ] the whisky matured first in American oak barrels, which impart soft sweet vanilla notes, before being transferred to European oak sherry casks, where the second cask ageing adds rich spicy flavours and a depth and fullness of flavour. The DoubleWood 17 year old is an elder sibling to DoubleWood 12 year old and shares its honeyed, spicy characteristics, but it is distinctly different, with deeper vanilla notes, hints of green apple, creamy toffee and a striking richness and complexity.
Colour: Copper
TransparentSmoke Review: Today's review is over shadowed by the fact that I have realized I need to drink all of my open bottles of whisk(e)y this year. This glorious bottle was lent to me by a friend and as happy as I am to be savouring a whisky off of my list of 100 affordable whiskies to try before I die, it tastes less than I had anticipated. OK, I just made that list up. (I really should make that list and this whisky would be on it if I did!) After my first sip I started digging into the Balvenie date codes and it turns out that they are somewhat a mystery. Best guesses on the internet say that the second letter in the date code after the "L" refers to a year. The letter "Z" refers to 2015, so this bottle being an "X" means it is 2013. 2016 would be an "A" again, and the letter "O" was left out to avoid confusion.
The deep dive into date codes came from the fact that the age of this bottle is apparent on the palate. Something is missing and it is a little too smooth. So if the palate and nose can change for this bottle that was carefully put away in a cupboard for nearly 8 years, it can happen to my entire collection. I guess my header quote of "Whether it's Whisky or Whiskey, the goal is enjoyment. Live, Love, Drink!" is truer than ever. Whisky is made to be enjoyed and like I have told everyone that will listen, as soon as you open the bottle, it is worthless, except to the few lucky people sitting there sharing it with you. So far my testing has confirmed we can see loss on the nose and palate in as few as 4.75 years. I'd expect that we actually will see changes in a much shorter timeline than that. I will continue testing to see when age first starts to dramatically affect the whisky.
There are some cool facts I came across doing the research about this distillery that I should share. The first one is: they are the only distillery that still does the 5 Rare Crafts in house: growing barley, malting barley, onsite Copper Smith, onsite Cooperage, and a in house Malt Master. Second they are still owned by the company that founded them in 1892. William Grant & Sons is even still run by a descendant of William Grant, Glenn Gordon. Finally Balvenie is used in Monkey Shoulder Blended Whisky, they say to add the spice.
Oak and vanilla are all over this aged dram. A small amount of spice permeates the finish. It is damn easy to drink , but no longer overly complicated. Ultimately my mind is else where, as this dram lost my attention a while ago and instead I've been thinking of all the bottles I need to get at finishing before they suffer the same fate as this poor bottle of The Balvenie DoubleWood 17. I'm giving it a 72 for now and hope to revisit a new bottle soon.
Our Score: 72/100
Bottles on Hand: