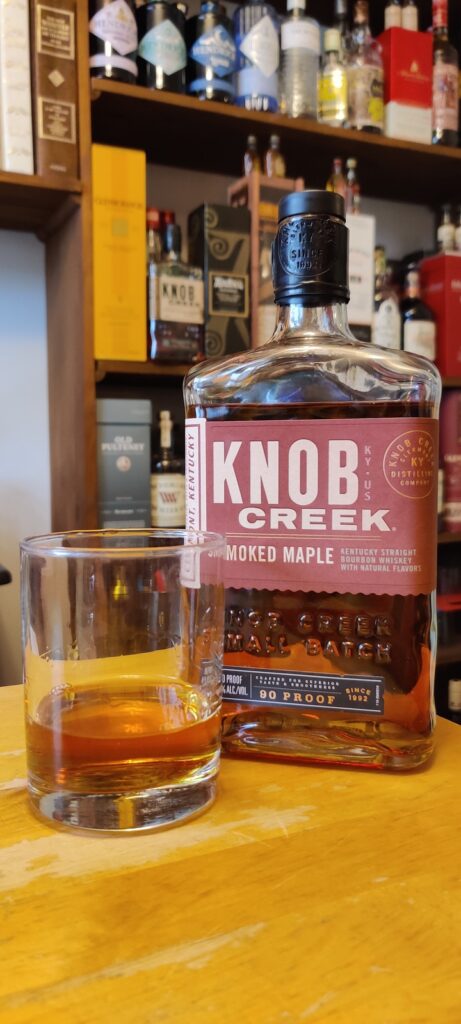 Tasting Date: 2021-05-08
Region: American Whiskey
Type: Flavoured Bourbon
Age Statement: NAS
Size: 750ml
ABV: 45% ABV
Cask Type: New charred American Oak
Distiller: Knob Creek Distilling Company
Location: Happy Hollow Rd, Clermont, KY 40110 Clermont, Kentucky, USA
Bottler: Knob Creek Bottling Plant
Purchase Location: Prairie Land Liquor Store 390 Baseline Road Unit 224 Sherwood Park, Alberta, Canada
Purchase Date: May 7th, 2021
Cost: $44.99 including GST & Deposit
Tasting Notes From The Knob Creek Website:
AROMA: Smoked hickory and maple wood, with hints of earthy grains.
TASTE: Full-bodied, inviting maple notes that lift to smoke and are complemented with rich vanilla and caramel.
FINISH: Smokey, smooth, and slightly sweet.
Colour: Copper to medium amber.
TransparentSmoke Review: How has this existed for so long with no one getting around to telling me? It was introduced in 2013 to the world and I missed it. I bought a bottle for a friend a little while ago and went over for a socially distanced visit and found out that I needed to own a bottle too.
A while back I had an epiphany and stopped buying friends bottles that they liked and/or bottles that I own. Instead I decided that all the bottles I buy for friends will be be the bottles I haven't got around to trying. It is working out swimmingly. Everyone I know now has a collection of bottles that I have never tried. If I can get over to see someone and chat for a while on the driveway I can sometimes remind them that I haven't tried the bottle I bought them. In this case a friend did me a solid and removed a couple of trees from my property and I rewarded him with a few bottles. One of them was Knob Creek Smoked Maple Kentucky Straight Bourbon (with natural flavours). The next week we had a chance to sit and relax and he pulled this gem out to try.
Knob Creek Smoked Maple Kentucky Straight Bourbon (with natural flavours) runs a fine line between being a true bourbon and being a flavoured whisky. On the one hand, it is all Knob Creek Kentucky Straight Bourbon at 45% ABV, on the other it has smoked maple flavour added to the bottle. I debated long and hard on which category this fell under, but in the end I decided anything other than pure bourbon in the bottle makes it a flavoured whisky. (Yes E150a gets a pass, if the Scots' say it's OK, then it's OK for Bourbon too).
Being Canadian, I like my maple syrup. So I don't think this detracts from the underlying Knob Creek flavours. But I could see how if you don't like maple syrup the addition of maple to a great whiskey would wreck it. You maple haters go buy a regular bottle of Knob Creek, us maple lovers will own both, one for before dinner and one for after.
The nose is as advertised, it is smoke and maple syrup. I have noticed that they never use the word syrup on the bottle so I assume there is none in the bottle but that's what it smells like. The palate is sweet, but not liqueur sweet, if you need a reference point, go try Sortilège Prestige, and then you will understand. Under the maple smoke is classic Knob Creek and a bite of rye spice on the finish. Worth a try, it is really good, just remember it's not pure bourbon and it's not pretending to be.
Oh! Also note my Son-in-law says Knob Creek Smoked Maple Kentucky Straight Bourbon shots at the bar or on the golf course are fire!
Our Score: 81/100
Bottles on Hand: