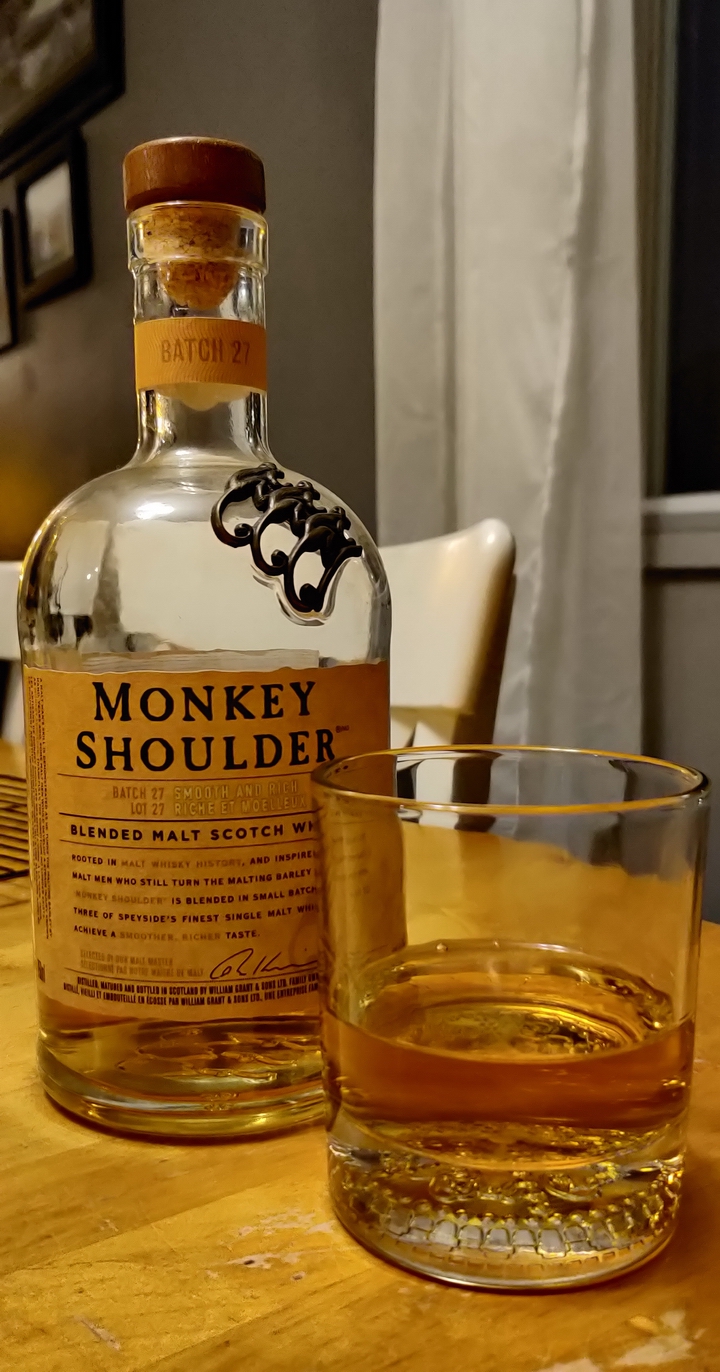 Tasting Date: 2021-04-03
Region: Scotch whisky – Speyside
Type: Blended – Originally single malt whiskies from Kininvie, Balvenie, and Glenfiddich. Now they use what they can get but try to keep the flavour profile the same..
Age Statement: NAS
Size: 750ml
ABV: 43% ABV
Cask Type: first fill ex-bourbon American oak
Distiller: William Grant and Sons Ltd
Location: Dufftown Scotland
Bottler: William Grant and Sons Ltd
Purchase Location: Unknown (Edmonton)
Purchase Date: Unknown
Cost: Unknown (~$42.00)
Tasting Notes From The Monkey Shoulder Website:
There are none.
From the bottle:
NOSE: Zesty orange, Vanilla Honey & Spiced Oak
TASTE: Mellow vanilla with spicy hints
Colour: Clear golden yellow.
TransparentSmoke Review: I used to make and drink a lot of Penicillin cocktails. It was was one of my favourite ways to drink some of the "scariest" of my whiskies when I was new to whisky. To tell the story of Monkey Shoulder, you first need to know that a good Penicillin is made like this:
First you make some honey/ginger syrup:
Thinly slice a 6-inch piece of ginger (No need to peel, just scrub vigorously with a potato brush first), add 1 cup water and 1 cup honey and the ginger in a saucepan and bring to a boil. Reduce heat and simmer for 5 minutes. Place in the refrigerator to steep overnight. Strain and toss out chunks and save liquid in a storage container. This keeps for up to 3 months easily in the fridge.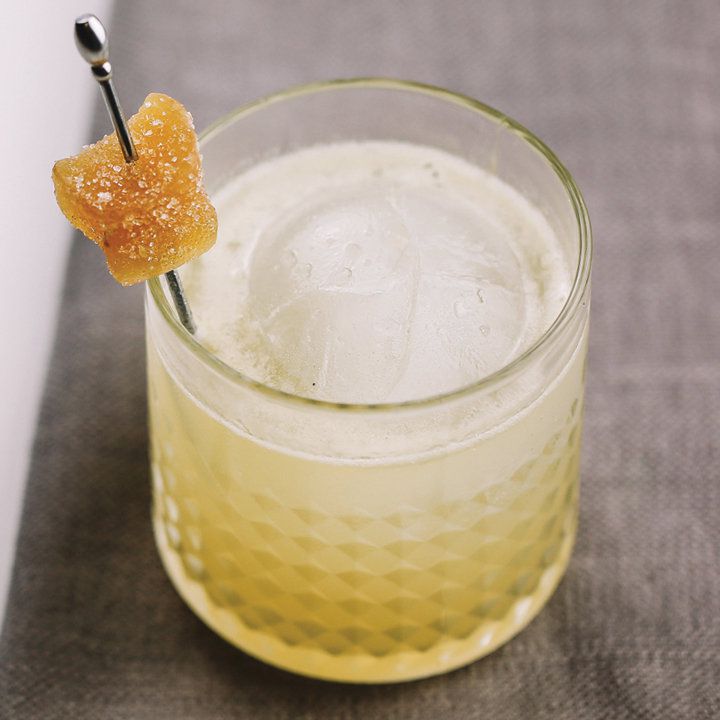 Next combine in a Cocktail shaker full of ice:
3 ounces scotch whisky
1 ounce freshly squeezed lemon juice
1 ounce honey-ginger syrup
Shake vigorously for 15 seconds. Serve over a "Big ass" ice cube.
I used to drink Penicillin with Laphroaig Quarter Cask and Lagavulin 16 Year. The honey ginger goes so well with both and tones it all down.
Now one day, I shared my perfect Penicillin recipe with someone I trusted, who hadn't heard that "The "best" whisk(e)y is the whisk(e)y you like to drink, the way you like to drink it." And they shamed me :(. "A penicillin is supposed to be made with Monkey Shoulder, the greatest blended whiskey for cocktails ever made."
I tried it and I disagree, Monkey Shoulder is bland and safe and not even as vanilla as Irish whiskey. (Yes, that was a dig.) It's not bad, in that it doesn't taste wrong or broken, but there is nothing in the bottle that says "OMG drink me". When you drink a cocktail with Monkey Shoulder you could have easily just used Vodka and brown sugar.
Do your own comparison. I would love to hear what you think.
Our Score: 58/100
Bottles on Hand: